Iconic Idaho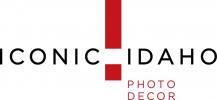 PO Box 140054
Boise, ID 83714
ICONIC IDAHO provides easy access to premium wall decor prints from collections of truly iconic images of Idaho.
We sell direct to businesses throughout Idaho as well as to individuals through our upcoming e-commerce platform and self-service shopping and ordering stations at local retail outlets.
Look for our exciting and dynamic collections from public and private archives that celebrate our Idaho history, beauty, and people. Shop for affordable individual prints or from our curated collection....or let us build a gallery with you.
Our print products are photo giclee canvas prints (wrapped or framed).