CapEd Credit Union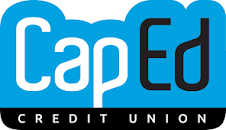 CapEd is known in Idaho's Treasure and Magic Valleys as a source for financial products, services, and educational resources that help teachers, their family members, and others invested in the education community to foster a healthy financial well-being. Here's what we're all about.
CapEd Vision
CapEd is committed to supporting quality education, financial empowerment, and the enrichment of individuals and communities.
CapEd Mission
We are a people-oriented Credit Union that provides personal and business financial services of superior quality and convenience. Our primary focus areas are member financial well-being, enrichment of community, and promotion of quality education.
CapEd Promise
To make a difference -- every member experience matters.
CapEd Brand Story
In 1936, 13 educators formed our credit union to support one another. Now, more than 80 years later, CapEd Credit Union is still focused on supporting the education community and uplifting the teaching profession.
We are proud of our reputation as a financial institution dedicated to providing the best banking experience for our members. Our reputation is founded upon and maintained by the outstanding employees we empower and trust to provide excellent service. CapEd takes pride in the fact that our employees are committed to the communities we serve.
Our purpose is to continue to be the foremost financial resource for individuals, organizations and businesses; to supply them with the tools and knowledge for strengthening their financial well-being.
Our work is more than banking; it's making a difference.
Learn more about our history and leadership.